ranchwood™ as design solution-Montana Timber Products
Posted on: July 2, 2014
Share




Where: Southwestern Montana
What: Personal Residence
Special Requirements: Find a product that will capture the look of reclaimed barn wood, but can be integrated in a cost effective way to exact specifications, for a mountain modern home design.
Solution: ranchwood™ Tackroom (vertical siding) and ranchwood™ Eastern (horizontal siding)
Products: Random Width Ship Lap siding (vertical), 1×8 Square Edge siding (horizontal)
This Southwestern Montana home is a classic representative of the emerging Mountain Modern design theme transcending through the Rocky Mountain West.  Mountain Modern design emphasizes attributes of simplicity, clean lines, mono-slope roof pitches, and a mixture of rustic building materials.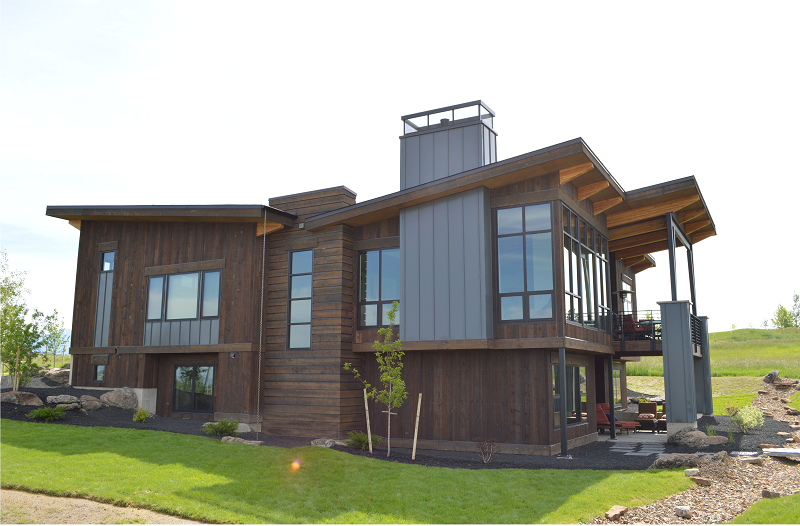 This particular residence has a minimalist feel from the front, but then as the home extends rearward it uses the natural landscape and modern architecture to open up with large windows and into a sizable covered deck.  The use of different styles and application of ranchwood™ siding provides texture while maintaining the clean lines of the design.
As seen here, ranchwood™ Eastern exposure Square Edge siding is gapped horizontally. Mixed with vertical ranchwood Tackroom, metal paneling and large windows is a great example of how rustic siding can be integrated into a modern home. ranchwood™ is made to the designer or owner's specific requirements and therefore is easily utilized and installed into demanding designs such as this Mountain Modern home or other types of architecture may require.
Share