Pioneer Wood Siding and Timber Series
Posted on: March 10, 2015
Share




Where: Colorado
What: Personal Residence
Solution: Pioneer Texture Douglas Fir Timbers (beams), Random width vertical Shiplap siding, 2×12 Channel Rustic siding with chinking.
Product: ranchwood™ wood siding and timbers. Texture: Pioneer and circle sawn.
Our latest project takes us back to an age when building a home was a communal effort and was expected to be your home for life. Harvesting and milling structural timbers and beams required the use of various types of axes. Trees were cut, and with nothing more than brawn and a blade, were hand hewn until square enough to provide structural integrity. Traditional hand hewn beams are a rarity these days; Fortunately, Montana Timber Products' ranchwood™,  Pioneer series timbers and barn board can provide you the comfort and nostalgia inducing authenticity you desire for your own homestead.
The above photo features 2×12 hand hewn and Pioneer, Channel Rustic, horizontal siding, and random width circle sawn, Shiplap, vertical siding. The Shiplap siding, like the timbers, are prefinished with the Montana Timber Products' Western Exposure color, a part of the ranchwood™ product line.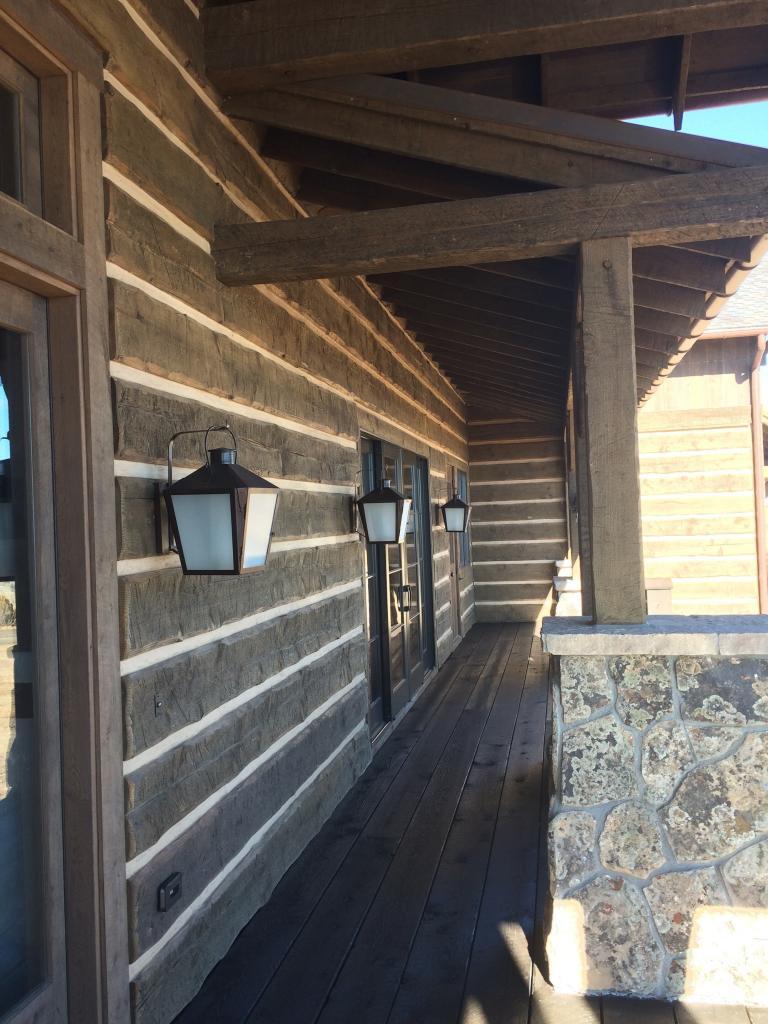 A close up of the hand hewn and Pioneer siding gives you a better look at its rustic texture and appearance. Channel Rustic siding is a great choice for multiple styles of builds. This project chose to use chinking, but many people opt to leave the "reveal" of the channel. One can always build with channel and add the chinking at a later date for a more traditional look and additional insulation.
Below, the random width, vertical Shiplap siding is featured in Montana Timber Products' ranchwood™ Tackroom with a circle sawn texture.
Whether you are looking for siding, beams, flooring, or interior accents, Montana Timber Products offers a solution for your rustic needs. All Montana Timber Products' prefinished wood siding utilizes Seal-Once, a 100% NO VOC waterproofer with a 10 year limited warranty against water ingress.
Share